Michael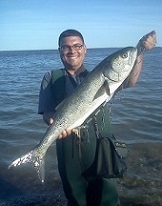 Joined: 28 Jan 2012
Posts: 3823
Location: Bridgeport
Posted: Sun Jun 12, 2016 7:06 pm

Post subject: Small Vessel Capsizes.....Crews Searching for Missing Man

---

While I was fishing at Seaside, not long after I started, I heard sirens galore! Later while I was fishing the open sandy area by Remington, ambulance, police, and fire crews were on the road as if they were waiting for a boat to bring somebody up onto shore. Saw a small watercraft with a red flashing light head out of Bridgeport Harbor with 4 people aboard.

Word was a man was on a small vessel with no life jacket on and the vessel capsized with him being unresponsive.

As I fished the cannon, many police and fire boats were searching the waters. Police and fire crews on shore eventually closed down the park right as I was leaving.

News 12 was at the scene.