Michael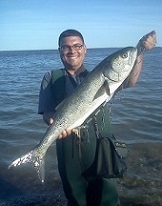 Joined: 28 Jan 2012
Posts: 3823
Location: Bridgeport
Posted: Fri Aug 19, 2016 11:03 pm

Post subject: Tailors Turning On

---

Thursday 8/18 I arrived at the Black Rock lighthouse around 4:30pm. Skies were mostly sunny, air was warm and dry, and winds were an 8 to 12 southwest. Low was scheduled for 6:08 and water had been ranging from 76.9 to 77.8.

I run into the same 2 fellow surfcasters out at the lighthouse. They told me nothing was going on yet.

Once it was about 5:30 was when I saw a school of peanut bunker occasionally jumping. Tried casting but niente.

As we kept waiting, a group of surfcasters we know started casting topwaters at the big rocks facing towards the southeast. Not too long after they casted did we see them setting the hook. Eventually we joined them. I had no waders with me due to not finding the leak in my Cabela's Ultralight, so I stood of rocks.

I tried throwing a number of topwaters, and found the blues to be very aggressive with chasing and exploding, meaning fast pace and lots of noise.

Total with my 1 ounce Cotton Cordell pencil was 7 explosions, lost 2, and landed a 4 pound tailor. If I had a side pair of waders, I would have been able to get into more fish as I watched the other guys.

Once tide got too high to be standing on the rocks, I headed back over to the lighthouse to check things out. Saw blues busting bait and casted, but for some reason, this time they were hardly hitting.

The eastern side of the beach had gulls active as we were into the tailors at the rocks. When I was heading back to shore on the Fayerweather jetty, small blues were busting bait in the shallows on the beach just like the late evenings in early September 2015.

Ordered a pair of Frogg Toggs Hellbender stocking foot waders as a handy pair so I can get back into the water as I wait for Cabela's to confirm the leak. Was pretty impressed with my previous pair of Hellbenders. Shouldn't have gotten rid of them.