PECo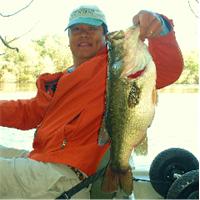 Joined: 06 Oct 2009
Posts: 5201
Location: Avon, CT
Posted: Tue Apr 04, 2017 12:38 pm

Post subject: Connecticut River - Haddam Meadows 04/02

---

Dan1 (aka Dan) recently got a new boat and is still breaking in the motor, so we took it for a long ride down the Connecticut River from Haddam Meadows to Hamburg Cove. Of course, we did a little bit of fishing along the way, too.





We saw some boats fishing for white perch in the outer part of Hamburg Cove. We cruised through the fleet on our way to the inner cove, but didn't see anyone catching much. The next day, I found out from one of the regulars that it was slow until he decided to leave, when his grandson said, "Hold on! I got one!", and reeled in a monster. After that, they caught a bunch of big ones. However, all of that happened after we left the cove. We didn't see anything but a small school of three inch bait and a lone four inch fish swimming in the inner cove.

As we headed back upriver, we passed the Chester/Hadlyme Ferry and the Goodspeed Opera House:





We decided to head into the Connecticut Yankee Atomic Power Plant canal before heading back to the ramp at Haddam Meadows. There were several boats fishing in the canal. On our way in, I caught a yellow perch with a drop shot 2-1/2 inch Smelt Gulp! Minnow:



As we worked our way past the laydowns near the mouth of the canal, I remembered that the last time I was in there, largemouth bass were suspending directly underneath laydowns, so I tossed a wacky-rigged Green Pumpkin/Red Flake five inch Senko up against one and hooked up on only my second cast:



A short time later, Dan finally boated his first fish on his new boat:



Obviously, he was thrilled. At least I have to stop calling his boat a yellow perch boat. It's a bass boat, now!

We ended up boating the one yellow perch and six largemouth bass, although one of the bass was a snag and only one or two might have been small keepers. I think that the high water temperature in the canal helped the bass bite. It was a balmy 45 degrees, which is much warmer than I'd seen anywhere else.

We got back to the ramp after putting another 2.2 hours on the motor. Only 4.8 hours to go until it's fully broken in! After we left Haddam Meadows, we went to Ted's Restaurant for a steamed cheeseburger. I

LOVE

Ted's steamed cheeseburgers!
_________________
Don't forget to wear sunscreen and don't litter!