PECo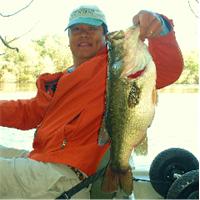 Joined: 06 Oct 2009
Posts: 5201
Location: Avon, CT
Posted: Tue Feb 27, 2018 9:26 am

Post subject: Connecticut River - Hamburg Cove 02/26

---

Easy Come, Easy Go.

JJay (aka Jason) and I paddled Hamburg Cove on Monday to see whether more white perch were there than on Saturday. Unfortunately, Sunday's rain chased them out of the cove. We didn't see a single one. The weather conditions weren't bad and the water level was higher than I saw all day on Saturday:





Essex is downriver from Hamburg Cove and is the closest tide station. I figure that the tides hit the cove about 20 minutes after they hit Essex. When I checked the surface water temperature, it was 44 degrees.

We launched at the cartop launch next to the Hamburg Cove Yacht Club just before 11:00 am. Well, I launched earlier than Jason. Here he is, trying to re-learn how it works:



While he was putzing around, I checked out the inner cove, but all I found were a few yellow perch:



Like I said on Saturday, I'm pretty sure that the yellow perch spawn is ON!

We paddled out to the outer cove and spotted one of the regulars, Garfield, and another boat. Although Garfield and his buddy were boating fish, they were yellow perch.

Unfortunately, that's all I found out there, too. Well, except for one other fish. . . .

I noticed something bobbing in the water about 20 feet away from my kayak. At first, I thought it was, well, a bobber, duh!, but then I noticed that it was slowly moving around. I paddled over and saw the head of a decent-sized fish suspending vertically in the water, but the glare of the overcast skies made it hard to make out; I kinda thought it was a largemouth bass. So, I reached out and grabbed it behind the head with my bare hand. Surprisingly, I was able to get a good grip on it and lift it into the kayak:



Yeap, I was surprised to see that it was a small chain pickerel, too. I felt its abdomen and looked to see whether it was choking on something big, but there were no obvious signs as to why it was behaving so strangely. It did, however, swim away normally, when I released it. Weird, huh?

Meanwhile, Jason explored the entire outer cove and was having no luck getting bites, so I suggested that we head back to the inner cove for some guaranteed yellow perch action. After he explored the inner cove, too, he finally caught some (I caught 25!), before we got off the water at 4:30 pm.

I figure that I'll check on the progress of the white perch spawn in a couple of days. In the meantime, I'm kinda feeling the urge to catch a bunch of something; maybe stripers, maybe yellows. I'll have to figure that out.
_________________
Don't forget to wear sunscreen and don't litter!