PECo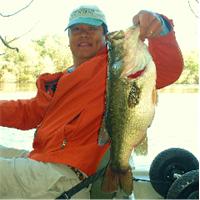 Joined: 06 Oct 2009
Posts: 5201
Location: Avon, CT
Posted: Mon Apr 08, 2019 9:41 am

Post subject: Bishop Swamp 04/05

---

On Friday, I kayak fished Jurovaty's Pond at Bishop Swamp in Andover from 10:30 am to 1:30 pm. It's a shallow, swampy pond with a lot of subsurface weed that's still brown. I saw some bright green pre-emergent lily pads on the bottom through the stained, but clear, water, despite the glare from the overcast sky.

The air temperature ranged from 38 to 44 degrees and the water temperature was 49 degrees. It was mostly calm with an intermittent breeze.

I tried throwing a weightless, wacky-rigged, five-inch, Green Pumpkin with Red Flake Senko and a big ZMan chatterbait with a Keitech swimbait trailer, and got no action, and then figured out that walking the dog with a weightless, five-inch, Shad ZMan ShadZ on a 5/0 EWG hook would get bitten. . . by chain pickerel:



I boated five pickerel in water ranging from four feet to one foot deep, before I finally caught a small keeper largemouth:



As the day warmed up, flies began swarming:



They weren't regular flies, but the little ones that you don't really hear until they fly into your ear. And your mouth. And your nose. And your eyes behind your sunglasses, where you crush them with your eyelids.

As I worked my way back to the launch, I tried throwing a Bullfrog Zoom Horny Toad, but got only one swipe at it, before switching back to the ShadZ, and boating one more pickerel and a short largemouth. At that point, I let the flies chase me off of the water. I think I might still have fly parts in my left eye.

Even though I was feeling a little bit chilled, I decided to drive down to Lyme for a hot meal and to check whether the white perch have made it into Hamburg Cove, yet.
_________________
Don't forget to wear sunscreen and don't litter!