myykkel2010



Joined: 15 Jun 2018
Posts: 2

Posted: Fri Jun 15, 2018 10:50 am

Post subject: Buying my own Rod and Reel

---

I go out on the boats about 10 -12 times a year so I figure I should get my own rod and reel.

Is there anyone that is willing to answer some questions about this? All these years I just pay to rent a rod and have no clue about them.

Thanks!
SheltonTom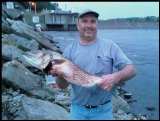 Joined: 16 Apr 2011
Posts: 96

Posted: Mon Jun 18, 2018 2:47 pm

Post subject:

---

What species do you generally target and where do you go out of? You can probably use the same setup for fluke, black sea bass and porgies. But if you go for blues and stripers you will need something very different.