Michael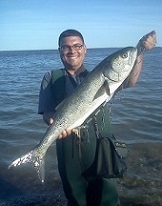 Joined: 28 Jan 2012
Posts: 3823
Location: Bridgeport
Posted: Fri Dec 04, 2015 6:54 pm

Post subject: Water Flowing Nicely

---

Friday afternoon after leaving the funeral home, I went to the Pequonnock at the Wonderland of Ice.

Hit both of my usual spots. First spot was where I played with lures to see what fish were interested in. A copper inline spinner landed me a yellow no bigger than 6". Lost the spinner. Once I switched over to the legendary pearl gray shiner FLR-6, the bite was on. Between both spots with the FLR-6, I landed 4 bass under a pound, 6" crappie, and 2 small yellows. Lost a bass and a yellow.

Last stop was the lower tidal section at Glenwood Park, but no signs of life.

With the rains we had last month and so far this month, the Pequonnock was flowing nicely again and water was coming down the Bunnell's Pond dam. Level was still lower than normal, but much better than when I last fished there a few months ago.