elcapitanmas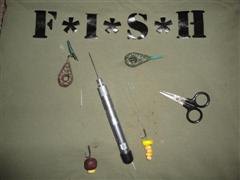 Joined: 04 May 2007
Posts: 7
Location: Ct, fishing anywhere the carp are
Posted: Fri May 04, 2007 10:02 am

Post subject: whats happpppennnnniiiinnn

---

Hey all obv new to the board. Need a free site so that my family all over the place and freinds can see what im up to. Loved the other board, but with the new model, doesnt work for what I need it for the most. Good luck to everyone that started this one. Hopefully it will stay a basic site, as Im getting sick of the forums innundated with advertising. Main species, and actually the only species I target are in specific order, Catfish, Carp, walleye, pike, and whatever else is in the water, ONLY thing I dont fish for is Bass. Good luck to everyone this season, see you out there.

E
_________________
Strictly catch and release so you can enjoy catching it again.
Old Mud


Joined: 03 May 2007
Posts: 1048
Location: Bath, Maine
Posted: Fri May 04, 2007 10:30 am

Post subject:

---

Welcome Aboard EL:
_________________
"I was so poor growing up that if I wasn't a BOY I'd have had nothing to play with"




All that truly matters in the end is that you LOVED !!!!