Michael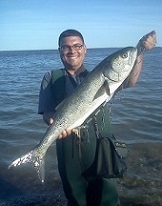 Joined: 28 Jan 2012
Posts: 3823
Location: Bridgeport
Posted: Tue May 27, 2014 9:16 pm

Post subject: Where I get my gear

---

I've had people on here ask me where I get certain lures and gear they can't find and are interested in trying them out.

Ebay is the place to get stuff you have a hard time finding and also getting them at an excellent price.

If there isn't a listing for a certain fishing rod, waders, lure, etc on Ebay, then do your homework on Google by typing in the item name, company, and model # and search 3 or 4 pages to find the deal.

If you need any help with finding certain items, send me a PM and I can do the searching and reply back with the link.