Ochofish8



Joined: 16 Nov 2012
Posts: 51

Posted: Fri May 20, 2016 11:27 am

Post subject: why do pickerel love topwater

---

I went out fishing on East Twin last weekend throwing a topwater in the pads and caught probably easily 3 dozen pickerel and avoided the slime darts on other occasions. Why do pickerel love it so much? I mean I could see the wake of the pickerel coming feet away and would crush it.
Michael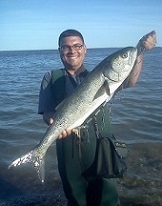 Joined: 28 Jan 2012
Posts: 3823
Location: Bridgeport
Posted: Mon May 23, 2016 10:10 pm

Post subject:

---

First of all, pickerel are members of the pike family. Just like their larger cousins, pickerel love slamming a loud topwater.

Another interesting fact is between the muskie, pike, and pickerel, the chain pickerel is considered the strongest and most aggressive pound-for-pound. People who have caught pike-pickerel hybrids have said those fish absolutely fight and will slam almost anything.

Pike chase their prey while pickerel stay closer to weeds, pads, and shore before darting out and grabbing their prey.