Michael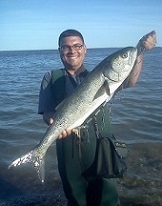 Joined: 28 Jan 2012
Posts: 3823
Location: Bridgeport
Posted: Fri Jan 29, 2016 7:39 pm

Post subject: Within a Month

---

These recent mild days with strong sunlight and moist southerly flow have helped the Bridgeport Harbor Buoy reach 38.5 degrees as of the 7pm reading. That's a 5 degree difference compared to the day of the storm.

Offshore of Island Beach is a buoy that's getting close to 50!

Sunday it will be getting back into the 40s during the daytime, but then it will really warm up later in the week. Forecasters are calling for a warmer than normal February.

If February is gonna be a warm month, then get ready for the holdover stripers to wake up come late February or early March!