NorthEastFisherman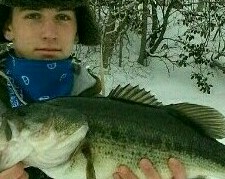 Joined: 27 May 2012
Posts: 582

Posted: Tue May 13, 2014 8:28 pm

Post subject: Persistence Pays Off!

---

Went again to try for round 2 on carp. Same idea this time. Caught one and took almost an hour (yes.. An hour) on 6lb mono. Spot I fished was near a river input and the fish took off and sat near bottom in the current. Finally got him close and the took off again even farther this time and when I went to net him/her they had a partner right behind em who was double the size. I'd post a picture if it wasn't such a pain to get on here. Scale was fluctuating between 18-20 but I was also holding the net straight cause I didn't want him to fall in the water before pics so all I can say is BIG fish.
_________________
YouTube Channel: NorthEastFisherman
ChaoSki



Joined: 23 Jun 2014
Posts: 169

Posted: Fri Jul 18, 2014 1:42 pm

Post subject: Re: Persistence Pays Off!

---

I'm really liking Carp fishing.....and am totally tired of other game fishing (too much work/not enough relaxing).

First, Carp are by far the biggest fish in fresh waters of CT
Second, they put up an amazing fight
Third, I LOVE the idea of tossing the line in and relaxing/enjoying the scenery (isn't that what fishing is about?).

Fact that not many people Carp fish, leaves us Carp lovers with SO much more fish.