next level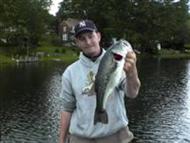 Joined: 08 May 2007
Posts: 223
Location: coventry,ct
Posted: Tue Jul 03, 2007 6:19 am

Post subject: poll on mansfield tourney

---

hey everybody. i was just looking at the tourney schedule from the dep and mansfield is pretty much overrun with tourneys from now until august 18th. the first open weekend on there is that entire weekend. in my experiences there it's much better if you can fish there when there hasn't been a tourney in a week or so. which basically never happens. i was just wondering if everyone would like to have it on that saturday or sunday? i am going to pull the permit as soon as i get some results on the poll. i'm thinking of starting it somewhat early so we can have a big cookout afterwards and everything doesn't go too late for people that might have to travel a ways. also is anyone going to throw another tourney or am i going to have to pull another one for before august? i'm picking saturday.