Drewski1001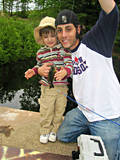 Joined: 17 May 2012
Posts: 2
Location: Derby, CT
Posted: Fri May 18, 2012 8:26 pm

Post subject: Buttery Crunch Tilaipia

---

Need:
4 6-oz boneless tilapia filets
6-8 Ritz crackers, crushed
1 teaspoon salt
1/2 teaspoon chili powder
1/2 teaspoon adobo seasoning
2 tablespoons unsalted butter, cold


Arrange fish on a lined baking sheet. Combine crushed ritz crackers with salt, chili powder, and adobo seasoning (use clean hands to mix).
Cut butter into 6 equal pats. Place one pat a piece directly on the center of the tilapia. Cut remaining 2 pats into pea-sized pieces and mix by hand into cracker mixture. (I use a bit more butter here) Sprinkle crumbs equally over each tilapia filet.

Bake in a preheated oven at 425°F for 15-20 minutes, or desired doneness.

Once I came across this recipe online, I've used it 3 times in the past 2 months. Everyone loves it, probably one of my favorite fish recipes. I actually just tried a Cajun Spice Baked Tilapia which was really good, if anyone is interested in that recipe as well, let me know and I'll be happy to share.