Redneckangler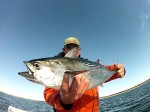 Joined: 05 May 2012
Posts: 851
Location: Meriden, CT
Posted: Tue Mar 05, 2013 7:31 pm

Post subject: Spot Burn

---

My secret fishing spot got burned on Facebook! http://www.facebook.com/CTFishAndWildlife


Our trout hatcheries are bursting at the seams with this year's trout. You can get an up close view of these fish right now, before they are sent out to rivers, streams, lakes and ponds across the state. Stop by the Burlington Fish Hatchery (34 Belden Road, Burlington, 860 673-2340) from 8:30 to 3:30 and if you would like a tour, they are offered between 9:00 and 2:00. The Quinebaug Hatchery (141 Trout Hatchery Road, Central Village (Plainfield), 860-564-7542 is open 7 days per week, 9:30 a.m. - 3:30 p.m. and offers self-guided tours.
_________________
RNA - It's in my blood.
www.redneckangler.com
Facebook @ TheRedneckangler
Weekly reports from around CT, the LIS and beyond.