avidangler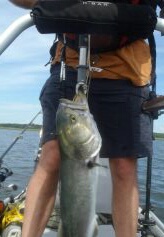 Joined: 08 Jan 2013
Posts: 469
Location: Forestville
Posted: Tue Aug 06, 2013 5:58 pm

Post subject: Voices for the Farmington river Heard!

---

I can't thank you all enough for your support by signing our petition. The administration at the Univeristy of Connecticut has recommended to it's Board of Trustees to adopt the Connecticut Water Company proposal to supply the University's water needs. The trustees will vote on the proposal on Wednesday.

Here is a quote from the Hartford Courant article this morning: "The selection eliminates a controversial $51 million plan by the Metropolitan District Commission to build a 20-mile pipeline from East Hartford that would have drawn water from the Barkhamsted and Nepaug reservoirs. Opponents assailed the plan, saying it would draw down the watershed of the Farmington River, a popular recreation spot."

Why was the proposal controversial? Because you all spoke up. You were the opponents who assailed the plan.

Thank you. Thank you. Thank you.

Hope to see you on the river soon.

Alicea Charamut Voices for the Farmington River
_________________
...Randy...

Leeway and elbow room.There's plenty of water to fish!


avidanglingadventures.blogspot.com



"If we concentrated on the really important stuff in life,there'd be a shortage of fishing poles."