avidangler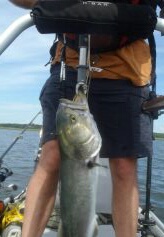 Joined: 08 Jan 2013
Posts: 469
Location: Forestville
Posted: Fri Oct 11, 2013 5:25 pm

Post subject: Updated salmon stocking info.

---

45 dark brown ones were stocked into Mt Tom around 9:30 this morning.In the 6 lb range.

ATLANTIC SALMON Stocking Update –DEEP EXPECTS TO STOCK ANOTHER 490 ATLANTIC SALMON THIS WEEK! These fish are being released into the Shetucket River (200 salmon) and Crystal Lake (Ellington, 45 salmon) on Thursday (10/10) and into Mount Tom Pond (45 salmon) and the upper (150 salmon) and lower (150 salmon) sections of the Naugatuck River on Friday (10/11). These stockings bring the total number of salmon stocked so far this fall to nearly 1,700 fish with Crystal Lake (145 salmon) Mount Tom Pond (145 salmon), the upper Naugatuck River (350 salmon), lower Naugatuck River (350 salmon) and Shetucket River (700 salmon) all stocked at least twice. The group of Atlantic salmon being released this week for the fishery range in weight from 2-6 pounds each. Following spawning later this fall, DEEP expects that approximately 150 additional salmon from the Kensington Hatchery will be available for stocking in November. These fish will range in weight from 3 to 15 pounds each.
_________________
...Randy...

Leeway and elbow room.There's plenty of water to fish!


avidanglingadventures.blogspot.com



"If we concentrated on the really important stuff in life,there'd be a shortage of fishing poles."