Michael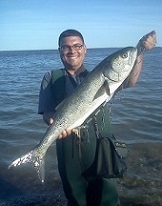 Joined: 28 Jan 2012
Posts: 3823
Location: Bridgeport
Posted: Thu Nov 28, 2013 9:43 pm

Post subject: Walleye at Seymour Res?

---

A fishing buddy sent me 2 pics showing me his limit of 2 keeper walleye on 2 days. He said it was the Seymour Reservoirs. I asked him which one and he said #2. He also said there's word the state has also put pike in there.

Anybody ever heard of this?