BeersNBass



Joined: 23 Apr 2013
Posts: 80
Location: New Britain CT
Posted: Sun Jan 12, 2014 12:23 pm

Post subject: Questions about a fishing yak

---

I'm looking to upgrade my fishing kayak. I can spend between $350-500. I'm looking for a sit on top model with decent storage and flush mount rod holders. My question is do the rods get in the way when casting or are they hard to navigate with at all
PECo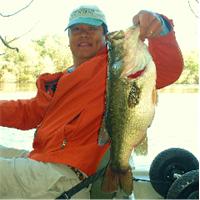 Joined: 06 Oct 2009
Posts: 5201
Location: Avon, CT
Posted: Sun Jan 12, 2014 12:30 pm

Post subject: Re: Questions about a fishing yak

---

BeersNBass wrote:
I'm looking to upgrade my fishing kayak. I can spend between $350-500. I'm looking for a sit on top model with decent storage and flush mount rod holders. My question is do the rods get in the way when casting or are they hard to navigate with at all


I'm not a fan of vertical rod holders on a kayak, because I always forget that they're there and hit them when I cast. However, I know some smarter fishermen who have no problems with them. I prefer to use Scotty No. 279 Bait Caster with No Mount rod holders, so I can keep the rods down. They work with spinning rods, too. I mount them ahead of me in my kayaks. Their adjustability helps a lot when setting up for trolling. If you can reach inside the hull of your kayak, Scotty No. 444 Compact Threaded Deck Mounts work great:




_________________
Don't forget to wear sunscreen and don't litter!