Michael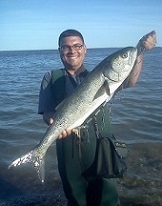 Joined: 28 Jan 2012
Posts: 3823
Location: Bridgeport
Posted: Fri Feb 07, 2014 12:01 am

Post subject: Past Weather Patterns & Fishing

---

I have recently been looking at the page on weather.gov for local significant weather events that have happened within the past few years and matching them to pics I have from fishing and great action I've had those same years.

A pattern I've noticed is starting in 2005 the weather pattern started to get active compared to years before that. As years went by we had peak seasons of active weather before it started quieting down after a warm winter in 2012. 2008, 2009, and 2010 were the years we saw many significant weather events. 2012 and 2013 saw 2 or 3 major events but not much else.

Local freshwater places haven't shown great action in the past 2 years or so compared to when the weather pattern was very active. Beardsley Park and Twin Brooks Park haven't had good spring crappie runs for a while too.

Surf fishing has slowed down too. I haven't seen any good blitzes since 2009 or 2010. Bluefish and fluke fishing has gone down while sea robins are the only ones around most of the time during the past 2 summers. There were very few days in 2011 and 2012 when the bluefish would be thick compared to year before that and 2013 was the worst ever.

Does anybody else see a weather-related pattern with the way fishing has been for the past 5 or so years?