Michael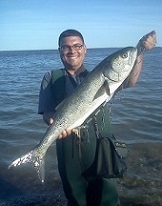 Joined: 28 Jan 2012
Posts: 3823
Location: Bridgeport
Posted: Thu Apr 10, 2014 11:05 pm

Post subject: If You're Fishing Smaller Waters......

---

Seeing how things have been going at Mondo Pond recently, thought I'd help other freshwater fishermen who are fishing small lakes and ponds and places such as Keeney Cove and Hamburg Cove.

Look for structure and brush near shore, on small islands, and in channels. Make sure the shoreline has a quick drop off. Stumps and points are other areas of interest.

Concentrate along the western and southern edges of the water and marshy coves that get plenty of sunlight.

Smaller minnow shaped lures seem to be the trick right now. Suspending jerkbaits, slow sinking jerkbaits, and certain floating lures that sink very slowly by putting a snap swivel on are the hit. Colors include perch patterns, glass ghost, bone white, pearlescent silver gray, and rusty colors such as green, orange, copper, and gold.

Other than jerkbaits, floating minnow shaped lures and jointed plugs and crankbaits that will dive at least 2 feet on a slow retrieve with the rod tip down are also working.