Redneckangler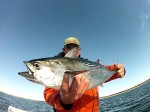 Joined: 05 May 2012
Posts: 851
Location: Meriden, CT
Posted: Mon Jun 02, 2014 8:41 pm

Post subject:

---

What type of fishing? Drifting or livelining for bass, light tackle, fly??? Do you just want fish in the box, shots at a real cow? Several great charters, and many specialize in specific methods. I've fished a ton with Jack Balint and a few other light tackle guys. Most of them will take up to 4 but are really are set up to fish 2-3 guys. More guys usually means a bigger boat and drifting, livelining, wire trolling etc.

Quite a few at:
http://www.ctsportfishing.com/
_________________
RNA - It's in my blood.
www.redneckangler.com
Facebook @ TheRedneckangler
Weekly reports from around CT, the LIS and beyond.