Michael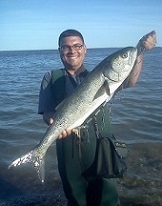 Joined: 28 Jan 2012
Posts: 3823
Location: Bridgeport
Posted: Sat Feb 01, 2014 9:10 pm

Post subject: Recommendation for Pencil Popping

---

A lure I found to be great for pencil popping is the Rapala X-Rap Walk.

I originally thought it was just for walking-the-dog until I tried pencil popping with it and found it can do plenty of dancing, chugging, spitting, and splashing on the surface that way. I got into topwater stripers at Short beach by doing that with an XRW-9 back in November.

I'd recommend this lure to surfcasters who are into pencil popping. Plus, it casts like a bullet, esp with braid.
RTownsend



Joined: 30 Jun 2013
Posts: 29

Posted: Fri Jun 20, 2014 3:37 pm

Post subject:

---

Thanks, I'm gonna give surf-casting a shot while on vacation on Nantucket next week and will try to pick one of these up before I go.