imsafanct



Joined: 05 Aug 2013
Posts: 118

Posted: Wed Jan 07, 2015 8:03 am

Post subject: Ice fishing for pike - kicking around some ideas

---

Guys,

This will be my first season ice fishing. I'm looking to ice fish for pike this season.

Living in Glastonbury, my first thoughts on locations are Keeney Cove and Wethersfield Cove. I don't know how long I'll last on a given trip and with a 6 month old son at home, I won't have tons of time anyhow, so I'll probably stay close.

Just curious if any of you have had luck ice fishing for pike in these spots or other places close by in the past. I plan on using a tip-ups with shiners and have an ice rod to jig with in between flags. Are live shiners my best bet?

If I'm feeling a bit more adventurous, I may take the drive out to Mansfield Hollow as I stopped by there this past Sunday to check the place out. I've been told that the pike fishing is better at Mansfield in the upper section where the boat launch is as opposed to the lower section which you access by floating through the tunnel under Bassett's Bridge Rd.

Do any of you have any tips you'd care to share about pike ice fishing?

Thanks as always.

-Eric
Michael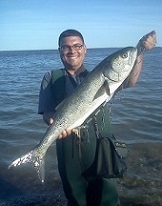 Joined: 28 Jan 2012
Posts: 3823
Location: Bridgeport
Posted: Wed Jan 07, 2015 10:23 pm

Post subject:

---

Pike like bigger bait.

2 fresh catches out of smaller streams and ponds that are popular baits are golden shiners and white suckers.

Another thing to do is do some jigging for smaller panfish as live bait.

While jigging for pike, lures to use would be bigger lipless crankbaits and and bigger plugs. Something I saw on a YouTube video was somebody using a Firetiger color Rapala Original Floater F-11 with a split shot attached and pike were nailing it.