cmlindblom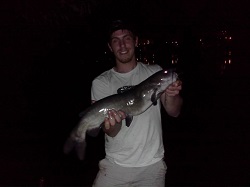 Joined: 10 May 2013
Posts: 9

Posted: Sat Apr 18, 2015 9:30 am

Post subject: Great year for river fishing!

---

So far the rivers have produced a ton of trout for my buddy and I. I am not sure if the high water levels in CT discouraged some fisherman but I have been having super productive days in all parts of CT. Has anyone else been experiencing this? I mainly catch and release and use strictly lures. I normally do decently with trout every year but this year has started out ridiculous.

Here is some video footage I was able to pick up from yesterday (I only recorded about 35-45 minutes out of the morning and this was after some dawn action)

https://www.youtube.com/watch?v=Mf0XojmRSxg

There are also a couple other videos on my channel from the start of open water trout.