Ten10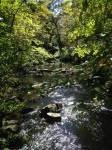 Joined: 30 Jan 2014
Posts: 21

Posted: Thu Apr 30, 2015 12:26 am

Post subject: Mono pond

---

Second winter fish kill in three years. Very sad. Many dead fish. Perch, crappie, good breeders 18 inch fish bass dead. Plus tons of bluegills. The long deadly winter spared no fish. I don't know if Mono can take another hit. This may have been the death blow. It will take many years for this pond to come back with decent fish if at all possible and if future winters will be less unfriendly. Tough to see so many dead fish.