Michael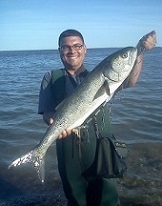 Joined: 28 Jan 2012
Posts: 3823
Location: Bridgeport
Posted: Thu May 28, 2015 9:13 pm

Post subject: The Legend is becoming more popular with local surfcasters

---

There was that day I fished the honey hole with another surf caster I know from Seaside. I saw 2 fellow Seaside surfcasters at work Thursday.

All 3 told me they're starting to see other surfcasters using the SP-9 ad SSP-12 more often now. All of them who have started using those 2 lures told those 3 guys that they can't believe how well it actually catches fish.

The only 3 complaints myself and most others have about the 2 lures are not good against the wind, front treble can sometimes get stuck on the leader, and not good in rough waters.

Many of you surfcasters don't know what you're actually missing out on as others witnessing me and reading my reports have started getting addicted to the lure.