Michael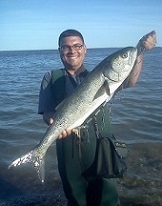 Joined: 28 Jan 2012
Posts: 3823
Location: Bridgeport
Posted: Fri Jun 19, 2015 10:49 pm

Post subject: New Topwater Technique

---

Friday while fishing Mondo, fish were into topwater and needed noise at a steady speed or aggressive noise stop and go. That's when I came up with a new topwater technique.

Pencil popping isn't just saltwater fishing. If you are fishing a lake or pond and bass, pike, or pickerel want surface noise, slowly pencil popping with lures such as Heddon Tiny Torpedo, Heddon Baby Torpedo, floating weedless frogs, and floating weedless mice attract the fish.

This technique with a Snag Proof weedless mouse had a bass shoot out of the water for the lure. I also had some nice swirls as I did it with a Tiny Torpedo.