Michael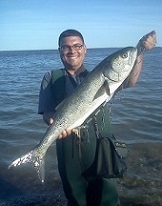 Joined: 28 Jan 2012
Posts: 3823
Location: Bridgeport
Posted: Sat Jul 11, 2015 9:32 pm

Post subject: Ups and Downs in Recreational Fishin with Bridgeport Project

---

I subscribe to Mayor Finch's city newsletter. Today's newsletter had an article that a shoreline project that has been talked about for many years has finally gotten a go ahead and funding.

This project will be mixed use waterfront where the abandoned Remington Shaver plant and a small abandoned restaurant currently stand.

I feel there are ups and downs with this project that will effect the fishing.

1 big up will be getting rid of the common poaching and crossing each other's lines issues you are always bound to see or find at the discharge.

1 big down might be making those poachers and disrespectful chunkers fish other parts of Seaside in the way of many other people.

I would also think those disrespectful fishermen might no longer be able to fish anywhere along Seaside seeing they only go to Remington due to them not having a park pass and only going to Remington at night due to the main park being closed. With the main park being closed between 8:30pm and 8am, you'd think that would put an end to the common overnight striper and snapper poaching.