Redneckangler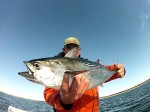 Joined: 05 May 2012
Posts: 851
Location: Meriden, CT
Posted: Thu Jul 23, 2015 8:54 am

Post subject: Shenandoah River Valley

---

Spent a week fishing down in VA in the Shenandoah River system. If you're ever down the I81 corridor, don't miss the opportunity to fish this region. There is far too much to cover in 5 days of fishing, but I did my best to try a few areas with some beautiful fish to show for it. My favorite was by far fishing wild brook trout in the mountain streams on a 2wt.

My full blog story is here:
http://redneckangler.blogspot.com/2015/07/take-me-home-country-road-or-i81.html




_________________
RNA - It's in my blood.
www.redneckangler.com
Facebook @ TheRedneckangler
Weekly reports from around CT, the LIS and beyond.