Michael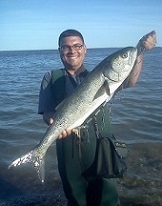 Joined: 28 Jan 2012
Posts: 3823
Location: Bridgeport
Posted: Wed Aug 05, 2015 11:27 pm

Post subject: Any Good Patience & Persistence Stories?

---

I'm sure many of you have had those times in fresh and salt where the day was very slow with fishing, until later, when patience and persistence paid off. Do you have any good stories of those times? Sometimes it even takes guts!

Here's my good story.

A few years ago in May while targeting trout at Beardsley Park, I was throwing nightcrawlers and letting them stay on the bottom in an area I like. I was hardly getting any hits and had already lost 2.

Later is when clouds rolled in and I got stuck in a quick downpour that got me soaked!

Once the rain had stopped, I found out that there was nothing else on the radar and saw I still had plenty of time, so I hit the road to head home, dry off, change clothes, and head back to the same spot with the same gear.

About 5 to 10 minutes goes by and I get a nice hit. I wait and then feel it again and set the hook. This trout was pulling! Landed a nice and chunky 2 pound rainbow!

Had a few other hits, landed a small brown and a few yellows, and then hit the road.

Guts, patience, and persistence paid off!