Michael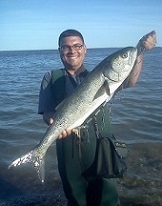 Joined: 28 Jan 2012
Posts: 3823
Location: Bridgeport
Posted: Sat Aug 15, 2015 12:30 am

Post subject: Unusual Sighting

---

Friday evening while I was wading in the water along the beach at Seaside, I saw a flock of gulls approaching. As they flew overhead, I carefully watched them. Once I got home I looked in my Peterson's Field Guide and found them to be laughing gulls.

This was either the first time or one of very few times I've seen this type of gull along the shore.

Has anybody else ever seen these mid-sized gulls while fishing or bathing?