Michael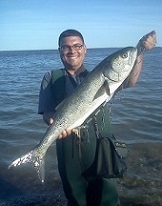 Joined: 28 Jan 2012
Posts: 3823
Location: Bridgeport
Posted: Fri Sep 11, 2015 9:45 pm

Post subject: Delicious Crappie

---

A few months ago I made myself 4 crappie fillets and loved it. All fillets came from 2 slab 13" crappie weighing over a pound. Here's how it went.

2 to 6 fillets from crappie 10" or more
Turn oven on bake @ 360
Thin coating of cold pressed extra virgin olive oil on baking tray
Place the fillets on the tray
A few drops of the olive oil over the fillets
Plenty of lemon juice over the fillets
Add a reasonable amount of black pepper, oregano, and parsley
Pop in the oven for 4 to 6 minutes

The crappie seemed to have a bit of a smokey flavor to them. This will have you keeping bigger crappie to bake and throwing smaller crappie that you'd fry back in the water.