Michael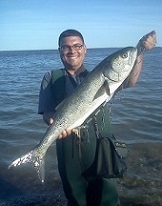 Joined: 28 Jan 2012
Posts: 3823
Location: Bridgeport
Posted: Sun Sep 13, 2015 7:13 pm

Post subject: Beardsley Park Cookie Cutters

---

Sunday afternoon I decided to hit Bunnell's Pond and upper Beardsley seeing there was a chance for afternoon and evening showers followed by northeast winds, making it easy for me to get home on a bus.

As I covered water and Bunnell's Pond after arriving around 3pm, I played with topwaters, spinners, and a few plugs. In 1 spot I had a hit on a pearl grey shiner FLR-6. Later when I get to another spot is where I got into a topwater bite with a g-finish shad Baby Torpedo. Had numerous topwater hits and landed 2 cookie cutters under a pound. Also lost 2 cookie cutters. Tried throwing the FLR-6 and had 2 hits and 1 follower.

Once the bite died there I headed farther up. Landed a cookie cutter with the Baby Torpedo. Waded in the Pequonnock between the playground and bend and had a few hits on the FLR-6.

Once it was 5:45pm and saw rainy skies in the distance with winds picking up, I headed over to the Wonderland of Ice where I caught a crappie on the FLR-6.

Drizzle started and then became a steady rain by 6:20, which meant go wait for the bus to head home.

Had a brand new 5'6" ML Eagle Claw Powerlight with me.