Michael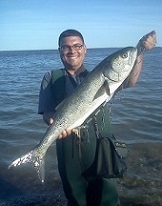 Joined: 28 Jan 2012
Posts: 3823
Location: Bridgeport
Posted: Tue Jan 26, 2016 10:19 pm

Post subject: Any Changes?

---

Between the mild temps, sunny skies, moisture, and light winds, has anybody seen changes at smaller and shallower lakes and ponds?

Supposed to stay mild with light winds throughout the week and then warm up more next week. Lots of snow has already melted in my area.

I'm thinking with these mild temps, light southerly flow, sunny skies, and talk about a warmer than normal February, I should be fishing Mondo by late February or early March.