CatDaddy



Joined: 06 Sep 2011
Posts: 62
Location: New Britain
Posted: Tue Apr 26, 2016 2:16 am

Post subject: Ct Outfitters

---

I heard ct outfitters went out of buisness! And I called during buisness hours and no answer. Anyone Know If This Is true? I hope not cause I always get my bait there when hitting the CTR. If anyone here knows whats up, please let me know. Sorry if I posted in wrong thread.
_________________
CatDaddy
Redneckangler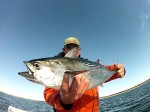 Joined: 05 May 2012
Posts: 851
Location: Meriden, CT
Posted: Thu Apr 28, 2016 10:33 am

Post subject:

---

It is closed. Gary may eventually sell to another owner, but CTO is gone. It's too bad, as it was a quality shop.
_________________
RNA - It's in my blood.
www.redneckangler.com
Facebook @ TheRedneckangler
Weekly reports from around CT, the LIS and beyond.