Michael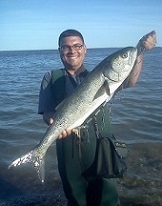 Joined: 28 Jan 2012
Posts: 3823
Location: Bridgeport
Posted: Wed May 18, 2016 10:34 pm

Post subject: Pequonnock Bpt 5/18

---

After Twin Brooks, I hit the Pequonnock at the Wonderland of Ice. Stuck with the Yellow Perch HJ-6.

This time fish were interested in the stop and go retrieve I had going at Twin Brooks and Mondo.

Hit both of my usual spots, which produced 3 dinky bass, 1 dinky crappie, 1 redbreast, 1 dinky yellow, and 2 bluegills.

Next I went to the lower tidal section at Glenwood Park.

Once again, white perch were active. Total was 6 white perch up to 8". Also landed 3 dinky bass, 2 bluegills, and 3 dinky yellows.