Michael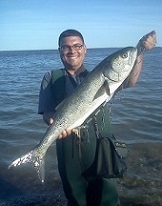 Joined: 28 Jan 2012
Posts: 3823
Location: Bridgeport
Posted: Fri Jun 17, 2016 11:12 pm

Post subject: Evening Topwater

---

Friday afternoon I arrived at Seaside just after 4. Low tide for Black Rock was scheduled for 4:06. Air was warm, sky was partly to mostly sunny, and winds were a 5 to 10 south and southeast. Water temps at the local buoy ranged from 63.7 to 64.

I started at the honey hole as tide was coming in, but niente.

Headed out to Fayerweather and worked a few spots but still nothing. Mosquitoes were very bad out there even though I sprayed myself with Off.

As tide got higher, I headed over to the Remington sandbar. Nothing was going on out there.

Once tide got too high to be out on the sandbar, I hit the sandy area where there was lots of silversides. As the evening went on, blues would occasionally move in. Total was 4 blues 2 to 3 pounds. 1 came on the Mullet SSP-12 and 3 others came on a custom made 8" 2oz canal style pencil popper.

Once it was getting dark out, the bite shut down and dinky stripers took over.

Hit the road around 9:15.