Michael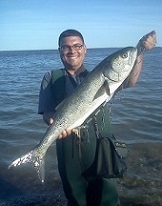 Joined: 28 Jan 2012
Posts: 3823
Location: Bridgeport
Posted: Wed Aug 03, 2016 7:26 pm

Post subject: Best Day in a While

---

Monday night I stayed up to hit the early morning tide at Seaside. Low was scheduled for 5:31am Tuesday and arrived at the hot spot right as tide was coming in. Winds were a steady 5 to 8mph ranging from northeast to southeast. Skies were mostly cloudy to overcast, air was moist and cool, and showers were lingering.

A retrieve that had a few fish going was slow pace topwater, such as slow pencil popping, slow walk the dog, and stop and go popping.

Had 2 stripers carefully take a Stainless Steal Blue Mullet SSP-12 down on the pause and 2 blues explode on it. Had what seemed to have been a striper follow a Chrome Blue 2oz Cotton Cordell in after seeing the swirl in front of me.

2 passing showers eventually moved through before east winds picked up. Skies stayed the same throughout the morning and afternoon, before becoming mostly sunny around 7:45pm.

Decided to keep fishing due to the good conditions as I took a few breaks Downtown.

At Breezy Point I had a hit on the SSP-12.

When tide was getting low again in the evening, a buddy and I hit the hot spot. 2 other familiar faces joined us later. I landed a 3.5lb tailor, 4lb tailor, and 4 slender 14 to 16" blues. Others caught a few of the slender ones. The 2 tailors came on the SSP-12 while the smaller ones came on the SSP-12 and Cotton Cordell. 1 guy tried working a popper at a steady retrieve but never got attention. Once he switched to slowly working a pencil popper was when he got explosions.

Tuesday's weather and bluefish bite had me thinking about a change in the bite as we get closer to the fall run. Weather was one of those fall-type days of late summer. Waves were big in the open and along the long shoreline, making me think about one of those late summer days similar to October when a coastal system brings choppy waters and cools the water down a few degrees.

If it doesn't get hot out like it had been throughout July, then it's looking like the bluefish bite is about to start turning back on and get better.