Michael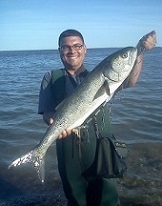 Joined: 28 Jan 2012
Posts: 3823
Location: Bridgeport
Posted: Tue Aug 09, 2016 5:53 pm

Post subject: Mixed Bag

---

Tuesday I arrived at the western end of Seaside around 2:30pm. Air was hot and dry, skies were mostly sunny, winds were an 8 to 12 southeast, and water temps ranged from 76.9 to 77.4. Winds eventually shifted to the south and southwest and clouds increased throughout the day.

Blues were busting by the destroyed pier but they seemed to have only wanted the peanut bunker.

I walked out onto the Fayerweather jetty to find a pattern. As tide kept coming in, 1 or 2 schools of blues would start busting bait and push it in toward the destroyed pier before stopping. 10 minutes or so later was when the same thing would happen. I had 2 explosions on a 2oz chrome blue Cotton Cordell pencil and lost a blues with the 2oz Hopkins.

Once tide got closer to high, things shut down. Walked out to the lighthouse but never got into anything.

Took a break by getting a drink at the concession stand before checking out the boat ramp.

At the boat ramp there was peanut bunker stacked up all over the place. Not much was happening by the ramp but saw blues busting closer to the destroyed pier. Went back over to the pier and walked on the rocks but never got into anything. Peanut bunker seemed to have been to thick all over the place for people using artificials to catch fish.

I then walked out onto the Fayerweather jetty and out to the island to find 2 fellow Seaside surf casters to be casting. 1 fellow landed 1 blue but said not much was happening yet.

When I got out to the lighthouse was when things started picking up. Saw a school of peanut bunker getting busted. Lost 2 blues and had a few hits. That school made its way inshore. Never got into anything else out at the lighthouse so went to check on the 2 fishermen.

Once I joined the 2 fishermen and it was about 7pm, things turned on. This time it was a mixed bag and the blues weren't hitting as much vs Monday.

Once the mosquitoes got bad, I hit the road.

Total was 6 blues up to 2 pounds, 3 sea robins, and 2 schoolies up to a chunky 15"er.

Spoons were the thing working, but they were more willing to hit a slow moving topwater this time vs Monday. One thing they seemed to have wanted was smaller lures, cause 1 fisherman was doing better than me with a smaller 3/4oz Krocodile vs my bigger 2oz Hopkins and another got attention on a 1oz Cotton Cordell while I only got 2 explosions on a bigger 2oz.