Michael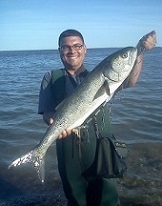 Joined: 28 Jan 2012
Posts: 3823
Location: Bridgeport
Posted: Tue Aug 16, 2016 11:09 pm

Post subject: Best Topwater in a While

---

Monday 8/16 I hit the hot spot at Seaside arriving around 3:15pm. Low tide was scheduled for 3:47. Air was drier than last time but still quite warm. Skies were mostly to partly sunny and winds were a light southwest.

As tide is coming in and I'm wading, nothing was happening no matter what I threw. I also noticed I had a leak in my Cabela's Ultra Lite waders. A fellow Seaside surfcaster arrives and he has no luck also.

We eventually take it easy out at the lighthouse and wait for the blues to start busting.

Eventually around 5pm the blues woke up. Throughout the evening, 2 fellow surfcasters and I were hitting the fish. I was doing better with topwaters vs the other 2 with spoons. The blues were looking for something noisy on the surface at a steady pace. Bigger lures over 6" were not getting much attention. 2 lures working best for me were a Gold XRW-13 and 1 ounce Cotton Cordell pencil.

A group of younger surfcasters eventually came and were casting from a different angle into the area the 3 of us were casting in, causing lines to sometimes tangle. The dudes didn't even know who's line and lure was who's. They eventually left when police were giving the final warning about the park closing.

I stayed but mosquitoes eventually got too bad.

Total was 12 blues up to just over 2 pounds and 2 chunky schoolies up to 18". I lost a number of blues, with 1 being at least 4 pounds that came off right in front of me.

This marked the best topwater bite I had gotten into in a while.