PECo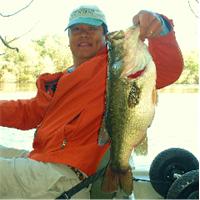 Joined: 06 Oct 2009
Posts: 5201
Location: Avon, CT
Posted: Sat Apr 01, 2017 10:25 am

Post subject: Housatonic River 03/30

---

I fished the lower Housatonic River with TurtleKiss (aka Kira) and metalfish (aka Ian) on Thursday. We were on a mission, codename: Operation Birthday Fish.

We launched at the Sunnyside ramp in Shelton at 6:40 am. It was still dark and the air temperature was still only just above freezing, even though the forecast high was over 50 degrees. There was a slight breeze out of the north that grew throughout the morning. The water temperature stayed between 39 and 41 degrees. Low tide was at 9:07 am and high tide was at 2:39 pm.

The fish finder showed no fish in front of the ramp, so we headed upriver. We finally saw some small schools and scattered fish near the downriver side of Twomile Island, but continued upriver. There were several shore guys chilling their nuts in waders along the east bank at the culvert across from the upriver end of Twomile Island, so we headed to the west bank. The finder showed a decent school of fish in the deeper water, so we dropped the trolling motor and began to fish,

As usual, I threw a single jig. I started with a Sexy Shad Reaction Innovations Skinny Dipper paddletail on a 3/4 ounce jighead and an Albino Zoom Super Salty Fluke on a 1/4 ounce jighead. Kira threw her Abomination-Rig with a United Nations assortment of lures on it and Ian threw a pre-rigged paddletail swimbait of some sort. I think that Kira boated the first fish, which was a little schoolie striped bass. After that, though, my single jig began to work. The fish were all dinks and they were very finicky, maybe not as bad as they have been, recently, but it was still a challenge to get a bite. The slow bite gave us a chance to enjoy the sunlight as it began to light up the west bank. We watched a fox trot upriver along the bank and, a little while later, a bobcat work its way downriver along the bank. Yeap, it was a beautiful early morning.

After Kira and I boated several fish, I got Ian to switch to an Albino Fluke, too, but on a 1/2 ounce jighead. It took him a while to get used to the very light jig, but he finally hooked up with the Birthday Fish:



Whoo hoo! Happy Birthday, Ian!

We spent a little bit of time searching for bitier fish downriver. Yeap, trust me, "bitier" is a real word. We Spot Locked just downriver from Twomile Island for a while. But with the rising sun also came more boats. I think that many of them wanted to get in one more trip before the weather turned ugly on Friday. Pretty soon, we were at the center of a fleet of eight boats. I'm not a fan of fishing for finicky dink schoolies in a crowd, so we moved away from the other boats. After checking out a couple of normally productive spots, we headed downriver to the upriver side of Wooster Island.

We never did locate a school of bitier fish. A couple of days earlier, Kira and I boated 121, including four keepers. On this trip, we were struggling to get to the Birthday Number of 34 with all dinky fish, but after a move upriver toward the River's End Marina, Ian boated it:



By this time, it was after 11:30 am and I was ready for a hot lunch, but, as usual, Kira wasn't ready to leave. She's

NEVER

ready to leave:



We continued fishing until we boated 41 and headed for the ramp. And after that, we enjoyed a nice birthday lunch at the Dew Drop Inn in Derby.

Mission Accomplished.
_________________
Don't forget to wear sunscreen and don't litter!