PECo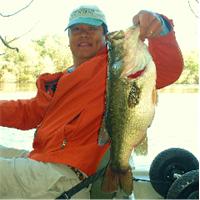 Joined: 06 Oct 2009
Posts: 5203
Location: Avon, CT
Posted: Tue Apr 04, 2017 2:08 pm

Post subject: Connecticut River - Hamburg Cove 04/03

---

So, after seeing a bunch of the regulars fishing for anadromous white perch in Hamburg Cove on Sunday, even though I didn't see anyone catching much of anything, I just

HAD

to get out there in my kayak, El Habañero, and check it out for myself. I launched at the crude ramp next to the Hamburg Cove Yacht Club at 10:20 am. Although I could tell that there was a little bit of a southwest breeze, the water in the inner cove was calm:



I paddled around the inner cove, hoping to find a school of white perch, but didn't find anything in the stained, but clear, water. I slowly made my way to the outer cove, where I saw a half dozen boats already searching for a school. I decided to head clockwise around the shore, even though I'd normally start on the opposite shore, because most of boats were on that side. I made it a quarter of the way down the cove when I saw one of the regulars boat a couple of white perch on the opposite shore, so paddled across the cove. By the time I got close, he had already lost the school, but another one of the regulars showed up and we began trying to figure out which way they went. We couldn't locate the school, although, every once in a while, someone would boat a yellow perch:



I finally headed back to where we had started the search and boated a couple, but they were both under 10 inches long:





However, the other boats converged on the area and soon the six other boats were anchored next to me. Although a small school of small white perch was definitely there, I paddled away, because there was enough of a breeze that it wasn't fun trying to hold my position while trying to catch fish in a crowd of boats. Plus, although I fish for fun, the others were fishing for food, so I figured that I'd leave that school to them while I looked for another.

I never did find another school of white perch, although I boated a bunch of yellow perch. After the wind rose to a steady 10 miles per hour, I decided to paddle back to the ramp and was off of the water by 3:20 pm. It was time for another steamed cheeseburger at Ted's Restaurant, anyway:



Although I think it's too early to declare that the anadromous white perch spawn has begun, they are starting to show up in small numbers. I'll be out of town for a while and am hoping that I don't miss the

BIG

schools. With any luck, someone will get out there and post some reports on CTFishTalk while I'm gone.
_________________
Don't forget to wear sunscreen and don't litter!