PECo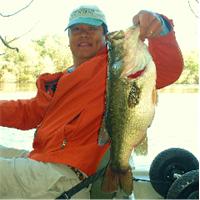 Joined: 06 Oct 2009
Posts: 5199
Location: Avon, CT
Posted: Wed May 17, 2017 11:52 am

Post subject: Gulf of Mexico - Naples, FL 05/15

---

I'm down in Naples, Florida, visiting my mom, so I'm not spending much time fishing while I'm here. However, she took my kids down to the beach for a little while, so I tagged along and brought a spinning setup with a sinking Laser Sardine Daiwa Salt Pro (SP) Minnow tied on. After catching a very determined juvenile pelican, I managed to catch a mystery fish in the surf:



My mom wanted to cook it up and eat it, so I wrapped it up in a towel and took it back to her condo. I gutted it, sprinkled it with sea salt, wrapped it up in heavy duty foil and threw it on the grill. It was delicious, although the flesh was slightly more firm than I prefer, almost like monkfish.

Fishing buddies later variously identified the fish as a deadly poisonous kreeper fish, an endangered and, of course, poisonous pinfish, and a striped mojarra. I'm going with striped mojarra.
_________________
Don't forget to wear sunscreen and don't litter!