PECo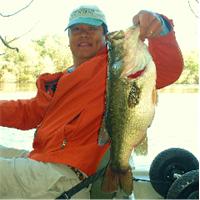 Joined: 06 Oct 2009
Posts: 5203
Location: Avon, CT
Posted: Fri May 26, 2017 9:34 pm

Post subject: Spring Pond 05/26

---

After spending most of the week out of town, I was dying to go fishing. When the rain finally stopped, today, I threw my kayak into the back of my Jeep and drove down to my local pond.

I ended up fishing from 1:00 pm to 6:00 pm. The air temperature was in the low 60s. For a brief time after I launched, there was a slight drizzle of rain, but there was never more than a slight breeze. The water was clear and warm; it was 66 degrees!

It took only 15 minutes of banging the shore with a wacky-rigged Senko for me to boat a keeper largemouth:



It was 15-3/4 inches long and weighed one pound, 15 ounces. After I hooked it, it did two somersaults before I could lip it. I love it when largies think that they're smallies!

I caught a few more along the shore, including a couple of small keepers. Even though the water was pretty warm, I didn't see any largemouth beds in the shallows, so I headed for the deeper outside weedline. It wasn't long before I found a larger fish:



The 19-3/4 incher weighed four pounds, three ounces. Coincidentally, I had just been thinking how I rarely catch largemouth bass in the four pound range. So, of course, less than 30 minutes later, I caught another:



Surprisingly, the 20-1/2 incher weighed only four pounds, four ounces. From the shapes of the fish, I'm pretty sure that the first four-pounder was a female and the second one was a male.

I chased the splashes of some schooling fish and confirmed my suspicion that they were white perch:



I also saw quite a few small carp, both jumping and splashing in the distance, and slowly cruising in the shallows directly in front of my kayak.

I ended up boating about 10 keeper largemouth bass. The recent extreme temperature swings appear to have delayed the spawn, at least in my local pond. It seems like every body of water that I've fished, lately, has fished differently than the last. I'm glad that I was able to figure it out, today.
_________________
Don't forget to wear sunscreen and don't litter!