PECo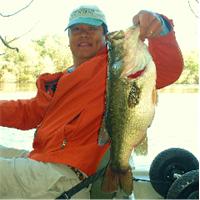 Joined: 06 Oct 2009
Posts: 5203
Location: Avon, CT
Posted: Wed May 31, 2017 5:58 pm

Post subject: Batterson Park Pond 05/31

---

I had planned to fish the Connecticut Kayak Anglers tourney at Lower Bolton Lake this evening, but the weather forecast caused it to be cancelled. Electrical storms and kayak fishing just aren't compatible. However, since my kayak was all warmed up and ready to go, I decided to check out Batterson Park Pond before the weather turned.

I was on the water from 10:15 am to 3:15 pm. When I launched, the water looked like glass. There was little to no wind and the sky was totally overcast. Although there was an occasional light mist or sprinkle, it never really rained. The water was a warm 65 degrees and fairly murky. I could see down only a couple of feet. Although I circled the entire pond, I never saw any beds in the shallows where I could see the bottom.

I caught the first fish over the submerged island in the middle of the pond with a small Whopper Plopper. The small keeper largemouth bass was the first fish I've ever caught with that lure:



Although the Whopper Plopper had worked, I switched to a wacky-rigged Senko, because there was almost no activity on the surface and very little weed growth. To make a long story short, the Senko worked, too, but it also caught rock bass along the shore. In the end, I caught six largemouth bass, of which five were keepers, including the two pound, 14 ounce lunker:



I had hoped to get off of the water with a one-to-one ratio of largemouth bass to rock bass, but my final fish was a rocky that brought my rock bass total to eight. Oh, well, maybe next time.
_________________
Don't forget to wear sunscreen and don't litter!