PECo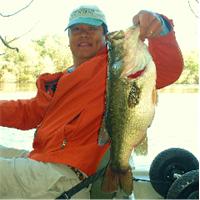 Joined: 06 Oct 2009
Posts: 5201
Location: Avon, CT
Posted: Wed Jun 14, 2017 8:36 pm

Post subject: Breakneck Pond 06/14

---

Yesterday, Connecticut Kayak Anglers (CKA) asked on Facebook whether anyone wanted to fish Breakneck Pond early in the morning today. I had no plans, so I said, "Sure." We agreed to meet at the trailhead to Breakneck Pond at 6:30 am.

For those who don't know, CKA is run by Mase2020 (aka Alan) and AVec80X (aka Anthony) to organize kayak fishing tourneys. Unlike other groups that organize kayak fishing tourneys, CKA is not-for-profit. CKA pays out all entry fees, less only some incidental expenses. This post isn't a pitch for CKA, so we now return to our regularly scheduled program. . . .

When I left my house at 5:35am, Google Maps notified me that Bigelow Hollow State Park opens at 8:00 am. Breakneck Pond is in Bigelow Hollow State Park. I worried that we might not be able to get into the park when we arrived at 6:30 am, so I sent Anthony a message. He responded, "I have to work today. It's Alan who's going to Breakneck."

The gate to the park was open and I met

Alan

at the trailhead to Breakneck Pond at 6:30 am. We loaded our kayaks onto our carts and headed up the roughly one mile trail. Luckily, the heat of the past couple of days broke and the air was wonderfully cool. It ended up peaking at only 80 degrees in the afternoon. It didn't take long for us to make it to the pond:



I launched first. Although there was a slight breeze from the north, the water was like glass at the southernmost end of the pond:



While I waited for Alan to launch, I tossed a wacky-rigged five-inch Senko to the edge of a small bed of lilies along the shore and got a bite:



Greaaat. . . . Alan finally launched and we headed up the pond. I told him that I wanted to paddle all the way up to the north end of the pond in Massachusetts before fishing our way back. We made it only a quarter of the way up the pond before Alan declared that he was marking fish on his finder. I told him that finders don't catch fish, so, of course, he had to stop and prove me wrong. I have to admit that it took him only one cast:



We ended up fishing our way up the east shore of the pond, before fishing our way back down the west shore. During our counterclockwise circuit, I caught fish mostly with the wacky-rigged Senko, although I also caught a couple with a Z-Man chatterbait with a big Keitech paddletail swimbait trailer and one with a topwater Zoom Horny Toad:



To me, that was a very strange thing. Although the surface temperature of the clear but stained water ranged from 75 to 79 degrees, the largemouth bass were strangely unwilling to hit a fast moving lure. Most of our bites came on slowly fished Senkos. I think that I hit one of my two chatterbait fish in the mouth while it was yawning. I threw the Horny Toad for at least an hour and got only the one bite. Alan threw a spinnerbait and caught only pickerel after pickerel after pickerel. Weird.

In the end, we fished from 7:30 am to 2:30 pm. I think that we each caught one black crappie. Alan caught way more chain pickerel than my 1-1/2 dozen. And my 31 largemouth bass might have been more than he caught. We never did see any larger fish. I think that our lunker probably weighed only 2-1/4 pounds. Again, weird.

I think that the next CKA kayak fishing tourney should be at Breakneck Pond and it should be LeMans-style; everyone has to load their kayak onto a cart, haul it up to the pond, fish, load their kayak back onto the cart and make it back to the parking area, all within eight hours. Whaddaya think?
_________________
Don't forget to wear sunscreen and don't litter!
TheFishingMedic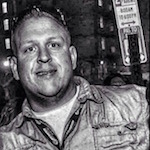 Joined: 17 Jun 2013
Posts: 30
Location: Stafford, CT
Posted: Thu Jun 15, 2017 1:13 pm

Post subject:

---

Had the same issue yesterday. Went to Black Pond on the north side from 3pm until dark and pulled 18 bass in the boat and missed about 5. All under 2lbs and much smaller.

All on senko wakie. Green pumpkin with red flakes and red octopus hooks.

I always seem to get smaller fish with the wakie worms.
_________________
Proud Father, Husband and Paramedic.