Michael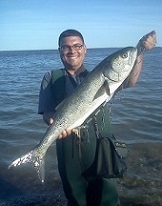 Joined: 28 Jan 2012
Posts: 3823
Location: Bridgeport
Posted: Tue Jul 07, 2015 9:31 pm

Post subject: Peregrine Falcon Spotted!!!

---

Tuesday morning while fishing along Fayerweather Island, I see a large bird come flying in. That's when colonies of nesting red winged blackbirds started attacking it.

As I watched, I could tell by its shape it was a type of falcon. Once it started flying away, I got to see it well and observed the facial pattern of a peregrine falcon.

Flew away fast and saw it head into the wealthy section of Black Rock.

Who should I report this sighting to?