PECo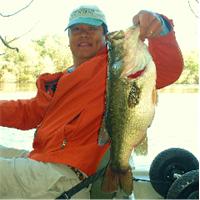 Joined: 06 Oct 2009
Posts: 5201
Location: Avon, CT
Posted: Mon Jul 17, 2017 5:27 am

Post subject: Lake McDonough 07/15

---

Dan1 (aka Dan) and I fished Lake McDonough in the morning on Saturday. We were the first boat through the gate just after 8:00 am. It had rained a little bit during the night on Friday and the morning started out fairly overcast, but the clouds cleared and the sun came out by 9:30 am. The air temperature was in the upper 70s and the water temperature was 77 to 78 degrees. The water was clear down at least six feet. There was very little wind until the sun appeared and then it began blowing out of the north at about five mile per hour.

Something new at McDonough is that they've restricted motor boat access to the small cove directly beneath the Barkhamsted Reservoir dam on the north end and the shallow cove in the northwest corner. That wasn't really a big deal since the spawn appears to be over and we never found decent fish shallow, but it was new to me.

We didn't catch anything tight to shore, other than rock bass. We caught several small largemouth bass, one chain pickerel and one dink smallie off of the shore in 10 to 15 feet of water. My three largemouth all bit a drop shot Roboworm:



Unfortunately, noseeums and black flies were very interested in biting Dan. I always wear long pants and long-sleeved shirts, and never had any problems, but they ate him up. We were off the water by 12:30 pm.

If you go to fish McDonough, don't forget to bring your bug spray!
_________________
Don't forget to wear sunscreen and don't litter!