PECo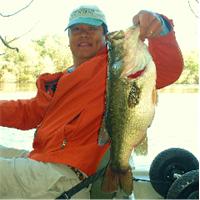 Joined: 06 Oct 2009
Posts: 5203
Location: Avon, CT
Posted: Fri Oct 27, 2017 3:54 pm

Post subject: Connecticut River - Baldwin Bridge 10/27

---

After a lot of travel and crappy weather, I finally, FINALLY!, got back out on the water. I fished the mouth of the Connecticut River, today, from 7:45 am to 11:30 am. The weather was beautiful; cool, sunny and only a slight breeze. I never really looked at the water temperature, but a photo of my finder shows 62.2 degrees at 11:22 am, as I approached the ramp. The low tide hit Saybrook Jetty at 10:40 am.

I planned to check out the west flats, but as I passed the railroad bridge at 8:00 am, I saw a cloud of seagulls hitting the water on the east flat. There was only one boat there, and I saw that it was Steve and RichZ. I moved downriver from them and began throwing a Daiwa SP Minnow toward the shore. I snagged a small schoolie, but then began getting bit. My third fish was a 29 inch keeper. 15 minutes later, I got another 29 incher.

I chased birds and breaking fish for the next couple of hours. The birds came and went, but there were random fish all over the place. I had a lot of follows and turn-aways st the boat, so I started putting a jerk and pause into my retrieve. A couple of times, there was a fish on the lure when I jerked.

At 10:30 am, I fished around some turbulence in the water caused by a shallow rock pile just upriver from Saybrook Jetty called Dickerson's Pier on my chart:



I had never noticed it, before, so the low tide must have been especially low. My SP Minnow got hammered by what I thought must be a big bluefish. However, although it pulled hard, it pulled really slowly and, of course, turned out to be a striper; a fat, 33 inch striper:




I didn't feel like waiting around for the incoming tide, so I headed back to the ramp at 11:15 am. I ended up catching a couple of dozen stripers, including the three keepers. I also caught a couple of 27 inchers, but most of the fish were small schoolies from 18 to 24 inches.

I gotta say that it's really helpful to have a good chart when fishing the mouth of the Connecticut at dead low tide. I heard one boat with an inboard-outboard motor slam into Dickerson's Pier as it headed downriver. Ouch!
_________________
Don't forget to wear sunscreen and don't litter!